Why Invest In Singapore?
Why invest in Singapore?
Singapore @ a Glance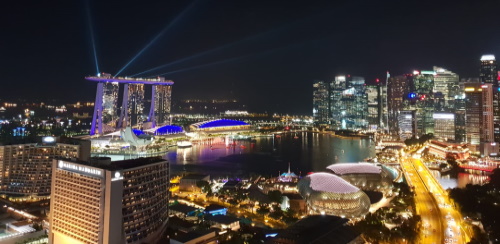 In the heart of Asia, lies Singapore - a bustling, world-class city - state that has made waves around the world for its business excellence, connectivity to the rest of the world, and innovation. With its high standard of living, political stability and cosmopolitan outlook, Singapore is the ideal place to work, live and play.
Singapore is a republic in Southeast Asia of 710.3 sq km, approximately one degree north of the equator. The island is safe from natural calamities and the climate is tropical all year round.
1. Scarce Land
Singapore has limited land (710.3 Sq km) as everybody knows. And reclamation can only add a few more sq km. Fuel that with the growing population, tourism and the amount of expatriates whom are pouring into Singapore, you can imagine the need for space! Here is a look at the top 10 most populated countries in the world.
2. Growing Population
As we can see from the table below, Singapore's population growth has been tremendous over the years. Therefore properties will always be in demand as our new citizens grow their roots in Singapore.
3. One Of The Best Education System In The World
Singapore has one of the most advanced and recognised education systems in the world, with excellent infrastructure and human resource support. Singapore has invested heavily in teacher training, curriculum development and information technology to prepare its students to face the challenges of competing in a knowledge-based economy. Scholars will have an exciting journey awaiting them when they arrive in Singapore.

Our University of Singapore is ranked 31st and Nanyang Technology University is ranked 74th in the world. (Read here)
4. World Class Medical Facilities
Singapore is generally acknowledged as having one of the most successful healthcare systems in the world, in terms of both efficiency in financing and the results achieved in community health outcomes. This is quite an achievement compared to most other developed countries. According to World Health Organisation; "...health status in Singapore is good by international standards. The Singapore health care philosophy emphasizes the building of a healthy population through preventive health care programmes and the promotion of healthy living".

Singapore healthcare is not perfect. But it is not bad. Last year, the International Institute for Management Development's (IMD) World Competitiveness Yearbook rated our healthcare infrastructure as the 4th best in the world. And the World Economic Forum (WEF) Global Competitiveness Report ranked Singapore as the 3rd lowest in infant mortality and the 7th highest in life expectancy.
5. Safety and Security
Singapore is a very popular place to visit. It is a melting pot of Chinese, Malay, Indian, Arabic and Western cultures. It is also one of the unique places in the world where there are in fact no conflicts between the cultures. Singapore is considered to be one of the safest places in the world! The homicide rate is only 0.38 per 100 000 inhabitants. This is extraordinary low if we compare it for example with Venezuela and Honduras that have 58 and 52 intentional homicides per 100,000 people respectively.

6. Singapore Is The World's Easiest Place To Do Business
Free trade, 24/7 efficient seaport, international acclaimed airport, excellent infrastructure, highly skilled workforce, one of the most competitive tax regimes in the world, incentives given to establish business and expand your business. What more can you ask for?


7. Racial Harmony
The signature trait of Singapore is its multi cultural make up. Its people are made of Chinese, Malay, Indian and many other races. This diversity also translates into a unique mix of religions, languages, cultural traditions and cuisines. The successful integration of the different segments of population has created a quiet respect for each other. In Singapore, it is not uncommon to find a mosque next to a temple, or a marriage of different races which are indications of reinforcing social cohesion.
8. Government Policy & Political stability
Singapore is known to be a safe and politically stable country, especially in Southeast Asia where its neighbours suffer constantly from political instability and it explains why many high net worth individuals like to invest and diversify their investment and portfolio in Singapore that offer them a peace of mind.
9. Strong Singapore Currency
Singapore Dollars is the strongest currency in Asia due to the strong fundamental and foundation of Singapore's economy.
10. Prestige
As a first world country and enjoying a reputation as a world class city, Singapore properties are both highly sought after and prestigious.
11. Singapore's status as one of the leading financial capitals of the world
12. Singapore's draw for highly talented foreign nationals to advance their career here
13. Great value of Singapore properties compared to properties in other major cities of the world
These trends have placed Singapore properties on a long term price growth despite the ups and downs in property prices across different time periods.